Kazakhstan, Georgia, the USA and Poland enter the knockout stage as the top seeds.
In a dramatic turn of events, Bulgaria suffers a last-minute defeat at the hands of Germany and says goodbye to the competition, while India is eliminated after France and Ukraine unexpectedly tie a very tense match.
The last round of the Pools stage was full of unexpected turns and twists, as no less than seven teams had yet to secure their qualification for the knockout stage.
In Pool A, the clash between Kazakhstan and Georgia (2-2) seemed like a trivial affair, as both teams had already earned their spot.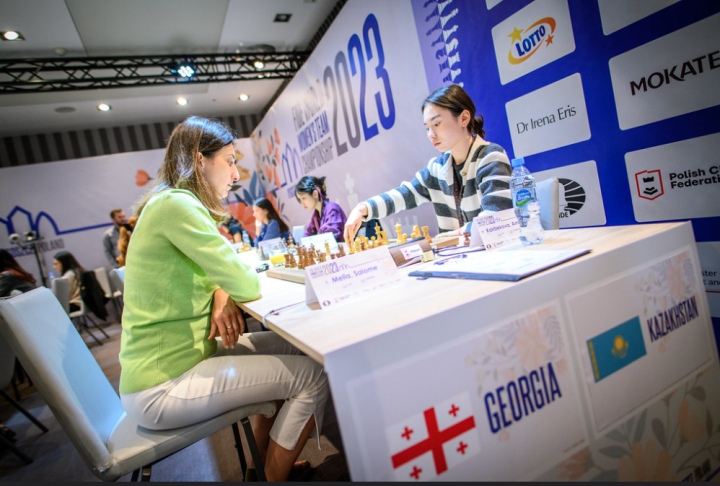 However, the match turned out to be quite the slaughter-fest, with all four games ending with a decisive result. In a slightly inferior position with Black against Bella Khotenashvili, Bibisara Assaubayeva opted for a bold exchange sacrifice that was objectively incorrect. However, it paid off, as Bella was in time trouble and panicked, giving away a whole piece unnecessarily and letting her position collapse.
In the fourth board, 16-year-old Amina Kairbekova demonstrated once again that she is probably the most underrated player on the field, as today she outplayed the experienced Salome Melia. Meri Arabidze and Nino Batsiashvili scored the two victories for the Georgians, levelling the match: they both show to be in top shape, having scored so far 4/5 and 3½/4, respectively.
India, the 4th seeded team in the competition, had lost its matches in rounds 2, 3 and 4, but today did their part, winning confidently against Egypt by 3½-½. Their qualification was to depend on the result of the match between Ukraine and France, in which a victory by either of the teams would have given the Indians a hail-Mary qualification, as they had better tie-break (board points).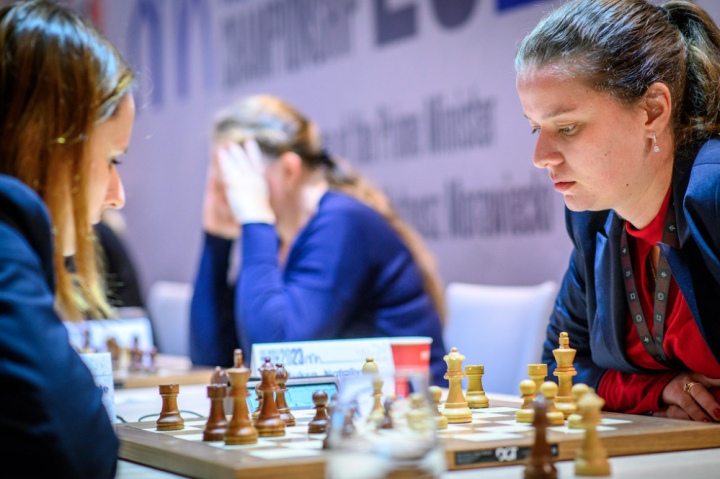 It was the moment when all the drama unfolded. Natalia Zhukova drew against Mitra Hejazipour. Natacha Benmesbah ruined a very advantageous position against Yelyzaveta Hrebenshchykova and lost. Anastasia Savina evened up the score, winning convincingly against Inna Gaponenko. The match and India's fate were to be decided in the game between Nataliya Buksa (white) and Deimante Daulyte-Cornette (black).
Buksa had a favourable position, but the game entered a stage where both players had very little time on the clock. Nataliya blundered a simple mate in two that her opponent overlooked – not once, but twice! In a wild time scramble, the advantage changed sides several times, and after 66 moves, despite having a winning position, Nataliya decided that she had had enough stress and offered a draw that secured her team a spot in the knockout stage. A satisfactory result for both France and Ukraine, but a heartbreaker for India.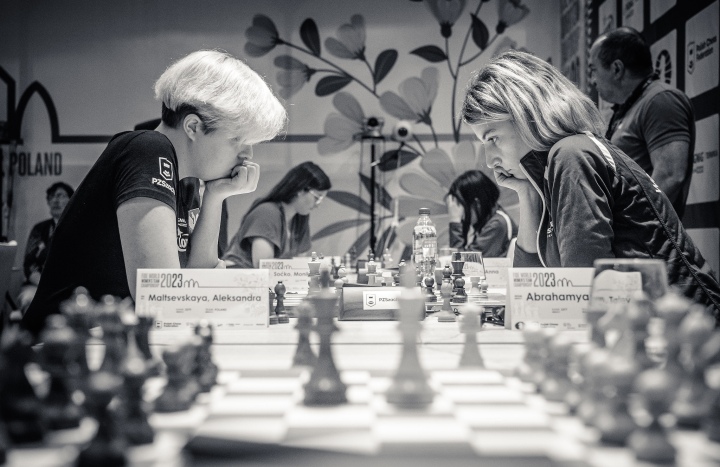 In Pool B, the situation resembled the one in Pool A, as the two teams who had already qualified, USA and Poland, were to cross swords in the 5th round. And again, the clash was anything but peaceful, with the home team getting the upper hand. Monika Socko struck first and paved the way for her team with an early win against a well-known rival for her, Anna Zatonskih. Socko was a pawn up from early into the game, while her opponent, being short of time, failed to find the best defence. Oliwia Kiolbasa put an end to Alice Lee's winning run, defeating her in a very nice game. Aleksandra Maltsevskaya rejected a draw by threefold repetition but found herself in a lost endgame shortly after, giving the USA their only victory in the match and leaving the score at 2½-1½ for the home team.
China recovered from the double defeat suffered yesterday in rounds 3 and 4, and with a good performance on the bottom boards beating FIDE Americas 3-1, and punched their ticket to the knockout stage.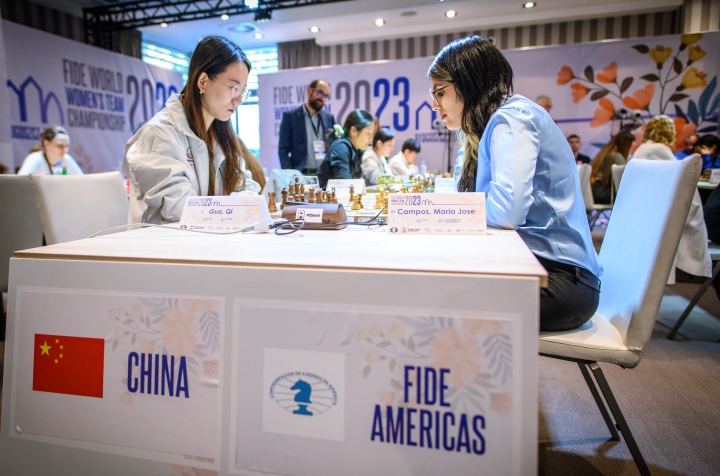 All eyes were on the match Germany-Bulgaria, which was one of the last to end. After a draw was reached in boards 2 and 3, the situation was clearly in favour of the Bulgarians: Elisabeth Paehtz was a pawn up against Antoaneta Stefanova but with no realistic chances to win, while in the fourth board, Viktoria Radeva had a completely winning position against Jana Schneider.
Radeva reached an endgame with a rook vs. two pawns, with the engines announcing mate in 25 moves. But as it so often happens, one simple mistake was enough to turn a decisive victory into a draw. Probably distracted by what had just happened, it was Stefanova's turn to make a mistake, and she lost her game, giving away the crucial point.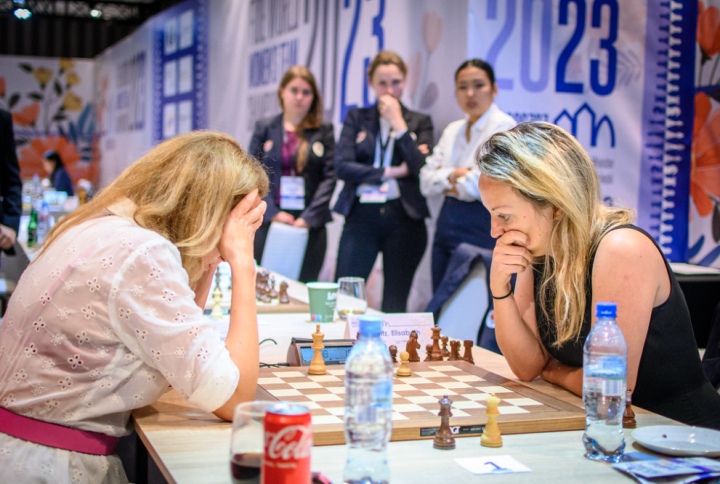 Germany, after having lost their first three matches in succession and having won only two games in the entire competition (Schneider 1-0 Campos in round 4, and Paehtz 1-0 Stefanova in round 5), leapfrogged Bulgaria in the last turn, defeating them by the minimum score (2½-1½), tying on match points, and barely overtaking them on board points.
Pool A results:
Georgia (2-2) Kazakhstan
Ukraine (2-2) France
Egypt (½-3½) India
Pool A Standings:
Kazakhstan – 9
Georgia – 7
France – 5
Ukraine – 5
India – 4
Egypt – 0
Pool B results:
China (3-1) FIDE Americas
Poland (2½-1½) USA
Germany (2½-1½) Bulgaria
Pool B Standings:
USA – 7
Poland – 7
China – 6
Germany – 4
Bulgaria – 4
FIDE Americas – 2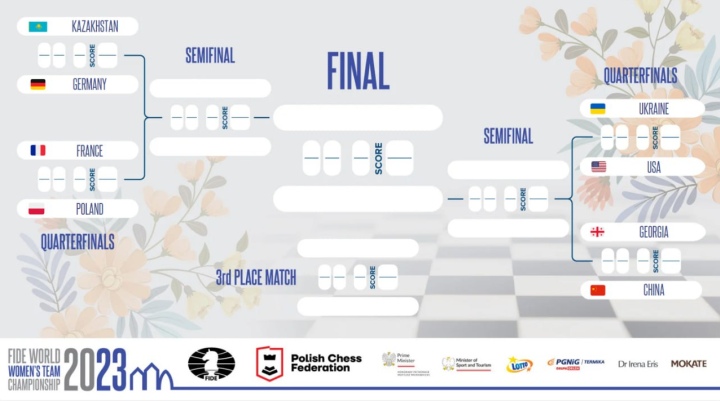 Written by David Llada
Photos: Michal Walusza